4000mAh Solar Panel Backup Battery Power Bank for Smartphones (Samsung Galaxy BlackBerry HTC Motorola Nokia LG Sony Ericsson) E-Book Readers MP3 MP4 Players GPS
Code: Solar-Panel-Power-Bank
---
In Stock
- Upon payment receipt during weekdays, order placed before 1:00 PM Pacific Time ships same day.
Payment verification may delay shipping. For quick verification, PayPal payment is recommended at checkout (you can pay credit card through PayPal even you don't have an account).
Special: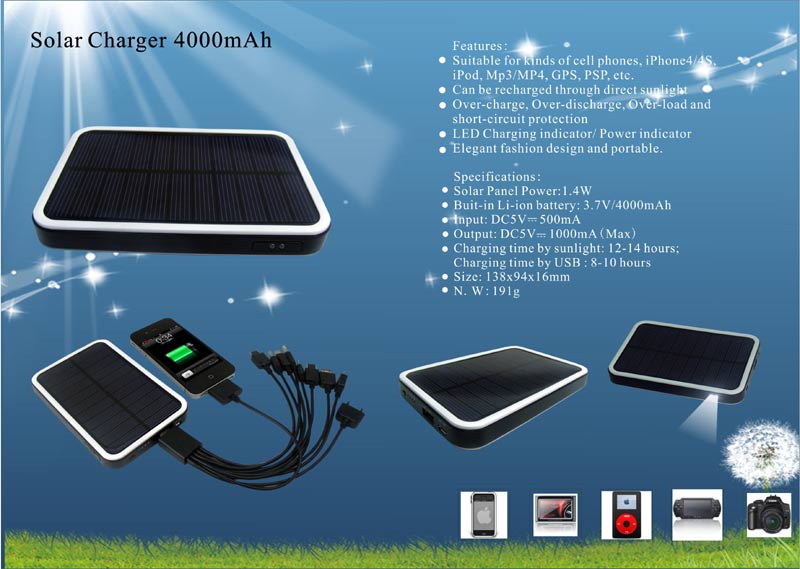 Product Information
Name:

4000mAh Solar Panel Backup Battery Power Bank for Smartphones (Samsung Galaxy BlackBerry HTC Motorola Nokia LG Sony Ericsson) E-Book Readers MP3 MP4 Players GPS
Code:
Solar-Panel-Power-Bank
Technical Details:

A stylish backup battery and power bank to charge most of the smart cell phones, E-Book readers, MP3 / MP4 players, and many other USB powered mobile devices.
The built-in 4000mAh high capacity power bank can be recharged by direct sunlight or USB power.
Compact and lightweight design makes you easily charge your device on-the-go.
Specifications:
Solar Panel Power: 1.4W
Built-in Battery: 3.7V 4000mAh
Input: DC 5.0V (through Micro USB port)
Output: DC 5.0V 1000mA Max (through USB port)
Dimensions: 138 x 94 x 16 mm - 5.43" x 3.70" x 0.63"
Weight: 191 g - 6.74 oz
Color: Black & White
Sophisticated circuit design with over-heated, over-current, over-charging protection.
Smart power indicators to show the power bank charging level and the remaining battery power accurately.
2-LED flashlight for emergency use.
10-in-1 USB charging cable included to maximize compatibility.
30 days money back guarantee (shipping charge excluded) and s replacement warranty
Shipped from Southern California: Ground $8.00, 3 Days $18.00, 2 Days $25.00, and Standard Overnight $35.00 for the first item

$1.00 GROUND shipping for ADDITIONAL item

International shipping: $25.00 (to Canada only by USPS Priority Mail International), $35 (worldwide by DHL Express)
Coupling with your existing USB cable or included 10-in-1 USB charging cable, the solar panel power bank backup battery charges most of the smartphones (iPhone, Android phone, Windows phone), e-Book readers, MP3, MP4 players, GPS, digital cameras, and many other USB powered devices.

Latest Popular Devices:

Amazon Kindle

Kindle 1
Kindle 2
Kindle DX

Apple

Apple iPad Mini (Lightning cable required)
Apple iPhone 5 (Lightning cable required)
Apple iPhone 4
Apple iPhone 4S
Apple iPhone 3G
Apple iPhone 3GS
Apple iPod Classic
Apple iPod Nano
Apple iPod Shuffle
Apple iPod Touch

Barnes & Noble

BlackBerry

BlackBerry Bold 9900
BlackBerry Bold 9930
BlackBerry Curve 8530
BlackBerry Curve 9320
BlackBerry Curve 9360
BlackBerry Torch 9810
BlackBerry Tour 9630

HTC

HTC One S
HTC One VX
HTC One X
HTC One X+
HTC Arrive
HTC Desire C
HTC Desire HD
HTC Desire S
HTC Desire X
HTC Desire V
HTC Desire Z
HTC Droid DNA
HTC Droid Incredible
HTC EVO
HTC Freestyle
HTC Hero
HTC Inspire
HTC Radar
HTC Rezound
HTC Rhyme
HTC Sensation XE
HTC Sensation XL
HTC Shift
HTC Surround
HTC ThunderBolt
HTC Titan II / Titan 2
HTC Trophy
HTC Vivid
HTC Wildfire S
HTC Windows Phone 8X

Huawei

Huawei M835
Huawei Pinnacle 2
Huawei Summit
Huawei Verge

LG

LG Connect
LG Escape
LG Esteem
LG Intuition
LG Lucid
LG Mach
LG Marquee
LG Motion
LG Nitro HD
LG Optimus 2X
LG Optimus 3D
LG Optimus 4X
LG Optimus 7
LG Optimus Elite
LG Optimus G
`
LG Optimus L9
LG Optimus M+
LG Optimus S
LG Optimus V
LG Quantum
LG Sectrum 2
LG Xpression
LG Viper

Motorola

Motorola Atrix 2
Motorola Atrix HD
Motorola Backflip
Motorola Bionic
Motorola CLIQ 2
Motorola Defy
Motorola Droid 4
Motorola Droid Razr
Motorola Droid Razr HD
Motorola Droid Razr M
Motorola Droid Razr Maxx HD
Motorola Droid Razr HD
Motorola ES400S
Motorola Milestone
Motorola Photon Q
Motorola Triumph

Nokia

Nokia Asha
Nokia Lumia 710
Nokia Lumia 800
Nokia Lumia 810
Nokia Lumia 820
Nokia Lumia 822
Nokia Lumia 900
Nokia Lumia 920
Nokia N8
Nokia N9
Nokia PureView
Nokia X2
Nokia X3
Nokia X6

Pantech

Pantech Breakout
Pantech Burst
Pantech Flex
Pantech Pocket
Pantech Marauder

Samsung

Samsung Acer
Samsung Captivate Glide
Samsung Continuum
Samsung Contour 2
Samsung Epic Touch
Samsung Fascinate
Samsung Focus 2
Samsung Focus S
Samsung Galaxy Admire
Samsung Galaxy Beam
Samsung Galaxy Blaze
Samsung Galaxy Exhibit
Samsung Galaxy Express
Samsung Galaxy Nexus
Samsung Galaxy Note
Samsung Galaxy Note2 / Note 2
Samsung Galaxy Rugby Pro
Samsung Galaxy S
Samsung Galaxy S II / S2
Samsung Galaxy S III / S3
Samsung Galaxy Skyrocket
Samsung Galaxy Stellar
Samsung Galaxy Stratosphere II
Samsung Galaxy Victory
Samsung Gravity Smart
Samsung Gravity TXT
Samsung Indulge
Samsung Infuse
Samsung Prevail
Samsung Replenish
Samsung Rugby Smart
Samsung t159
Samsung Transform Ultra
Samsung Vibrant

Sony Ericsson
Sale:

$50.00

$19.99

+ $8.00 shipping


This page is about 4000mAh Solar Panel Backup Battery Power Bank for Smartphones (Samsung Galaxy BlackBerry HTC Motorola Nokia LG Sony Ericsson) E-Book Readers MP3 MP4 Players GPS . This solar panel backup battery includes a built-in 4000mAh power bank and comes with a 10-in-1 USB charging cable. The backup battery allows you to use solar energy and charge most of the smart cell phones, eBook readers, MP3 / MP4 players, and many other USB powered devices.
May We Suggest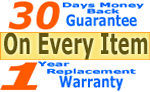 $1.00 Shipping
Certified Stores
Product Categories
General Information
Payment Gateways




eBuyBatteries proudly accepts Visa, MasterCard, Discover, American Express, Dinners, JCB, eCheck and debit cards with the Visa and MasterCard logo through PayPal, Authorize.net, and 2Checkout.com.
---

Questions? Please .
Hours: Monday through Friday -- 10:00AM - 6:00PM Pacific Time
Copyrightę2004-2015, . All Rights Reserved.